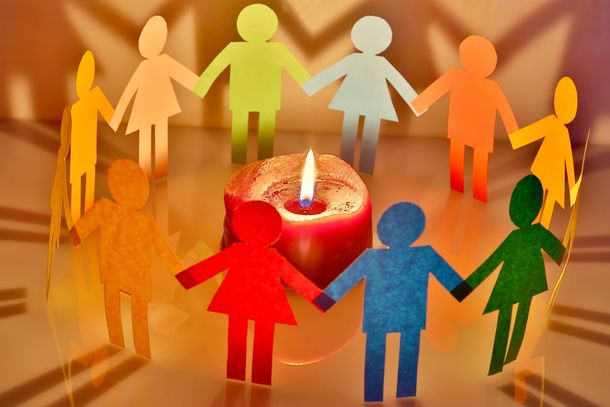 "Children are the future of the world. I have always believed in their potential and without a single spec of doubt, I trust in the ability of our children to make our world a better place." Ambassador Ghoulem Berrah
On Sunday, November 12th, a group of Chistian and Muslim teenagers attended together at St Joseph Miami Beach Catholic Church.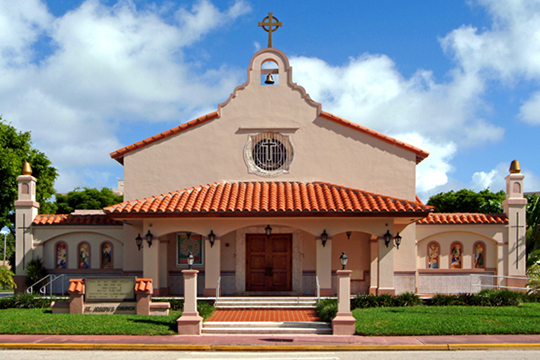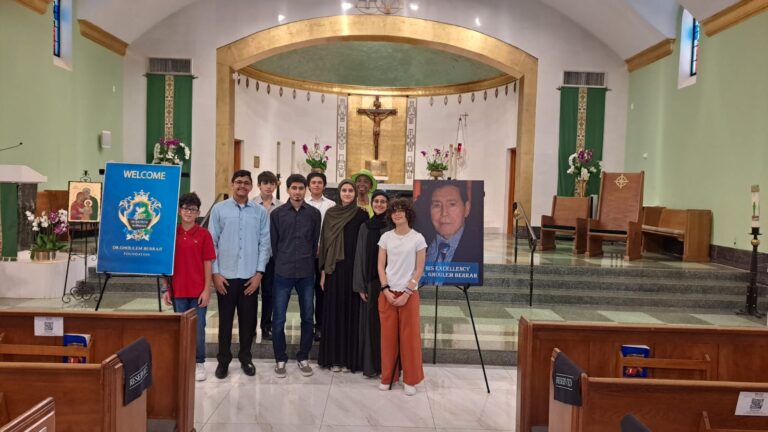 Father Sosa welcoming the youth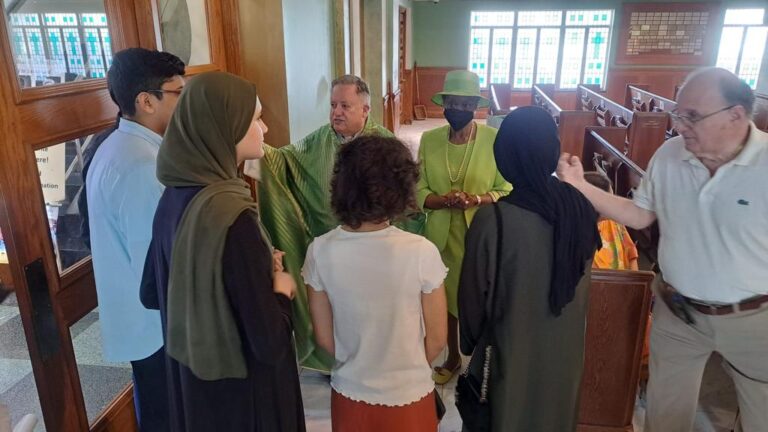 After Mass, a Q & A Session with Reverend Father Sosa, Pastor of St Joseph Miami Beach, Catholic Church, and Board member Dr. Ghoulem Berrah Foundation .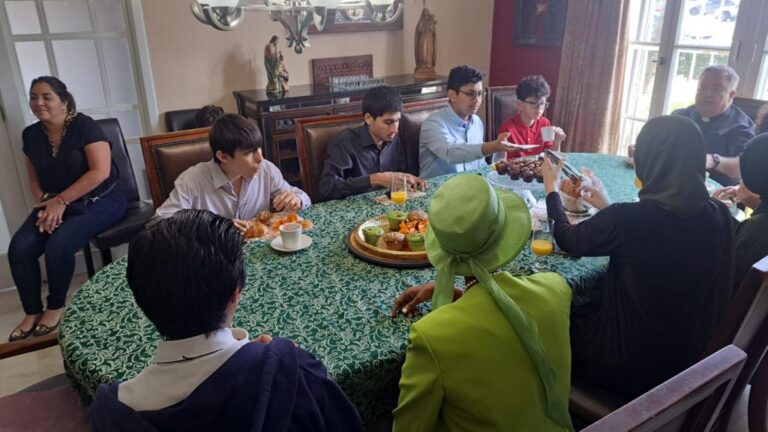 ON LABOR DAY, SEPTEMBER 4TH, CHRISTIAN AND MUSLIM TEENAGERS MET IN A JOYFUL ATMOSPHERE AT THE DR. GHOULEM BERRAH FOUNDATION.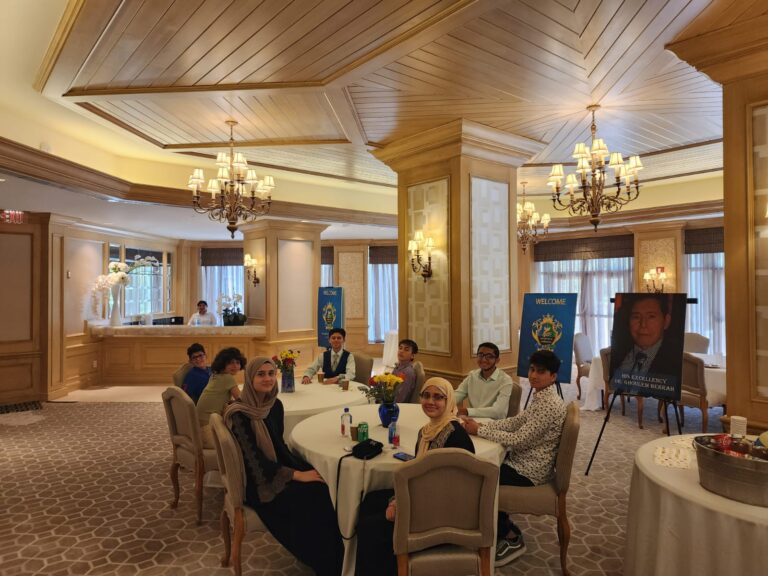 It was followed by a luncheon hosted by Mrs. Berrah, President of the Foundation.
In such a broken world, it was comforting to listen to those young voices stressing that they strive to get closer to God by making some sacrifices: Ramadan for Muslim teenagers and Lent for young Christians.
They expressed beautifully that the time for sacrifice was their favorite one. It was touching to hear Jesus, a young Christian, revealing that Christmas was his favorite holiday because it commemorated Jesus's birth, and he was not interested in gifts.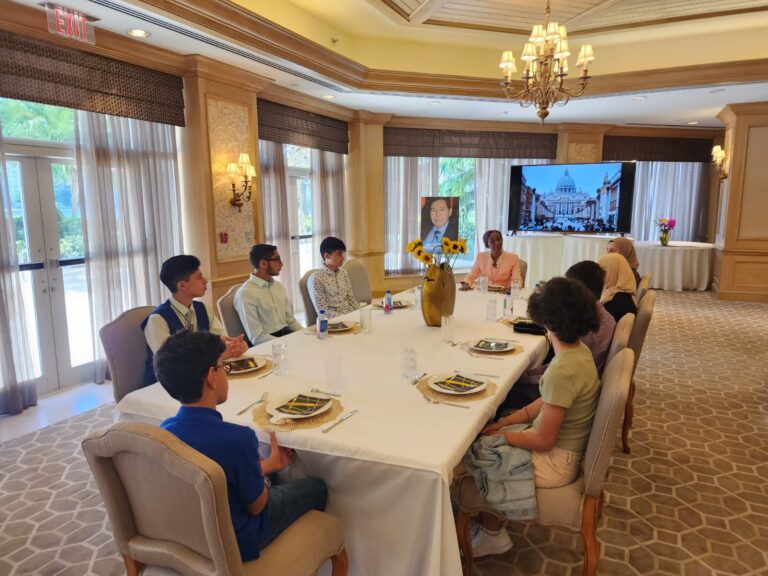 They were proud of their Faith and curious about their counterpart's Faith. Rida and Asila, two girls of the Islamic Faith, made it clear that it was their choice to wear a scarf, a sign of humility. Asila bombarded Miguel with questions related to confession and different denominations of Christians. The exchanges were very engaging in a happy atmosphere. The depth displayed by those young persons was a beacon of hope.
They are poised to be soldiers of peace and make the world a better place.
A MEETING WAS PLANNED ON MARCH 19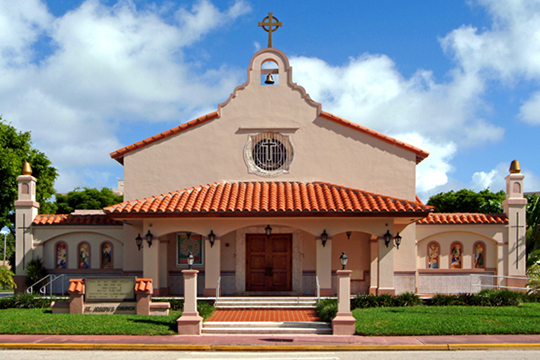 "On March 19, a meeting was planned with Reverend Father Sosa, the Pastor of Saint Joseph Miami Beach Catholic Church, and a group of teenagers from The Islamic, Jewish, and Christian faith after attending the Sunday Mass. Unfortunately, because of Spring break, the event was canceled.
It will be rescheduled as soon as possible."
ON JANUARY 21ST, A VISIT TO THE TURNBERRY SYNAGOGUE IN AVENTURA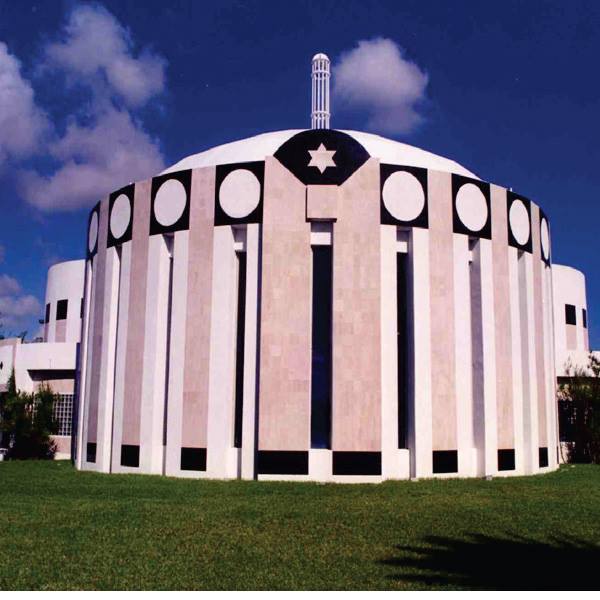 A group of Christian and Muslim teenagers from the Dr. Ghoulem Berrah Foundation were invited by Rabbi Lauren Berkun, to attend the Saturday Shabbat prayer at the Aventura Turnberry Conservative Synagogue on January 21st. We accompanied them.
When we set foot into the magnificent Sanctuary, we received a heart-whelming welcome from the celebrant Rabbi Guido Cohen and the Faithful. He emphasizes the importance of interfaith Harmony and peace. Thence, we were immersed into a friendly and fraternal atmosphere; the perception of us-versus-them didn't exist. It was a family and friends celebration of the Almighty.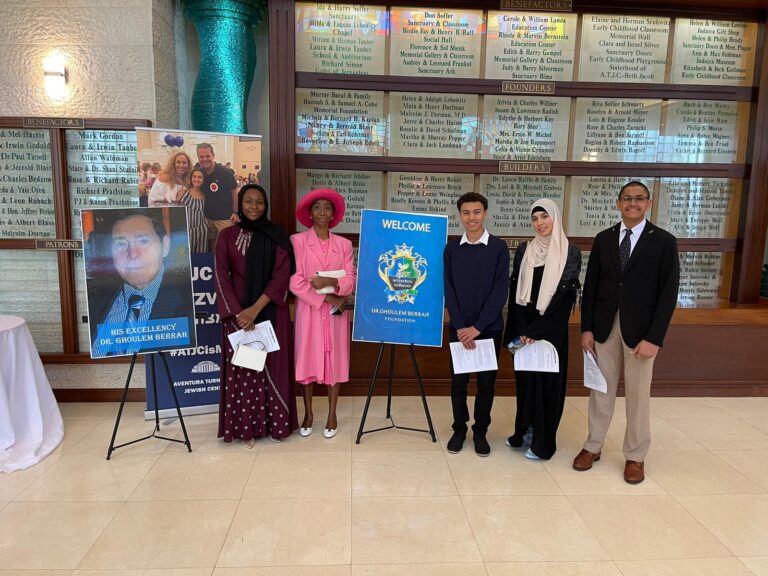 Rabbi Lauren Berkun was on top of every detail. She escorted us all the time with thoughtfulness and delivered to the teenagers an excellent and well-adapted introduction to Hebrew Prayer. Ammar, a young Muslim, commented: "Through this unique experience, I was able to gain a greater understanding of the Jewish Faith."
We were invited to the Kiddush Luncheon served after the service. Many attendees came to meet us. The interaction was genuine, relaxed, warm, and fraternal. To Muslim and Christian teenagers, it was a powerful experience.
Let's strive for more and more people to be ready to embrace Interfaith Harmony.
ON NOVEMBER 11, A VISIT TO THE ISLAMIC CENTER OF GREATER MIAMI, MASJID MIAMI GARDENS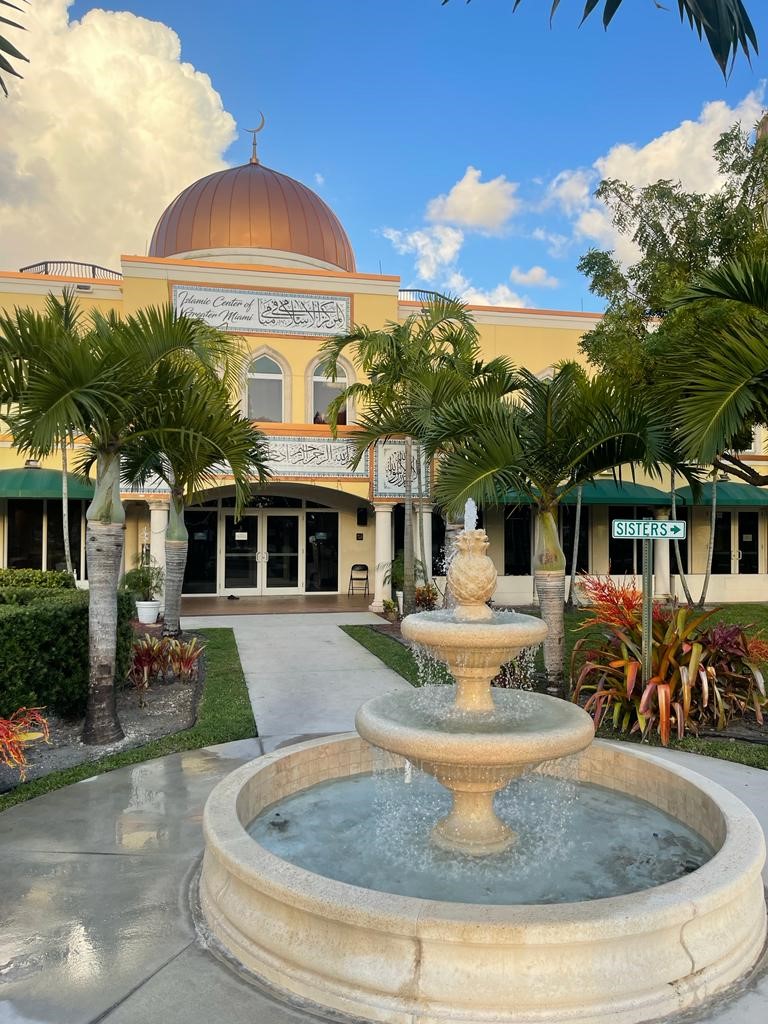 In a special program of innovative educational concept, The Dr. Ghoulem Berrah Foundation acquaints Teenagers with comprehensive knowledge about different faiths. Dr. Abdul Samra, a board member of the Foundation, Professor of Electrical Engineering at The University of Miami, and, Imam of Masjid Miami Gardens, greeted three Christian teenagers.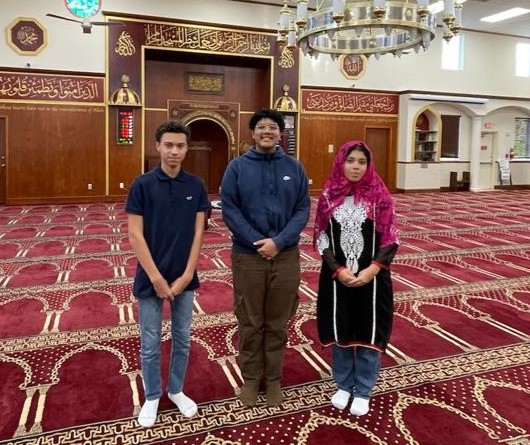 It was their first time breaking into a Mosque. It was quite a sight to behold. After a summary about the islamic Faith, Imam Samra had short session of Questions &Answers with the Youth. It was a great deal of experience. They were excited to learn and discover.
Mrs. Berrah attended the meeting. At the end, The Imam graciously informed them that he was willing to address any questions they might have later via email.
Our goal is building peace and understanding among human beings.
Our next visit will be to a Synagogue.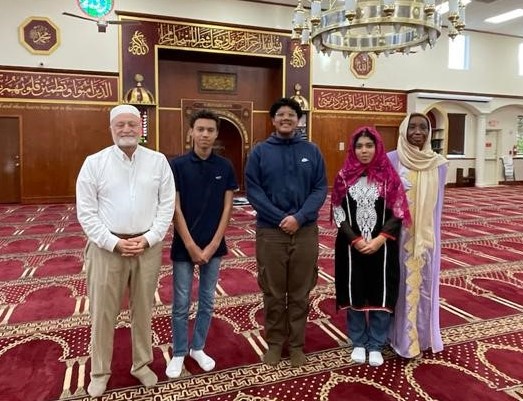 A Luncheon at the Dr. Ghoulem Berrah Foundation On September 5th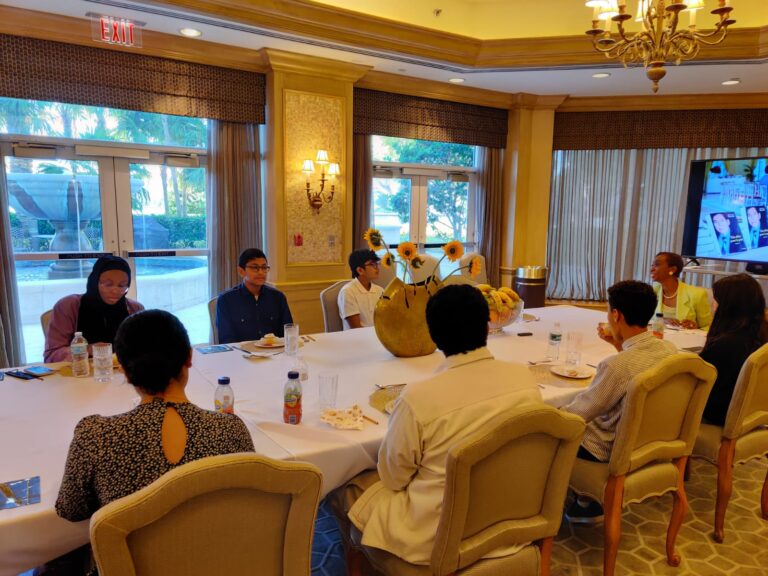 On September 5th, Mrs.Berrah hosted at the Dr.Ghoulem Berrah Foundation a luncheon in honor of a new group of teenagers from the Jewish, Christian, and Islamic Faiths. It was a joyous occasion; there was a great ambiance, and all teenagers were enthusiastic about their faith.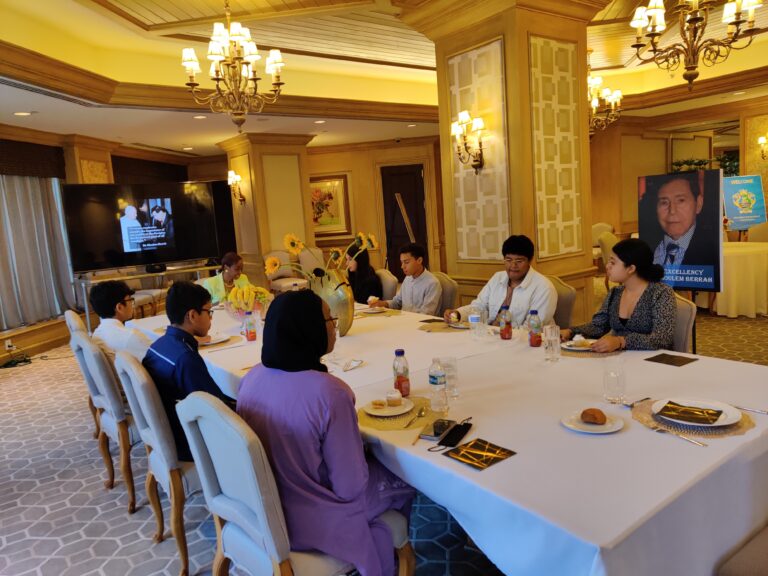 Lea, a young girl from the Jewish Faith, explained why Yom Kippur, the Day of Atonement, is her favorite Holiday; she focuses on her faith and acknowledges all the bad she has done. She repents for her sins and wants to be a better person for the following year.
Ammar, Abban, two young Muslims, and Kamilat, a young girl with a scarf, asserted that the month of Ramadan is their favorite time because they focus on their faith. While Fastening, they related to people less fortunate who do not know when will be their next meal. At the end of the thirty days, they are ready for Eid Al Fitr, the Celebration of the end of Ramadan.
Young Christians Emmanuel, Luna, and Daniel stressed their preference for Lent because, during forty days, they must give up at least something (telephone, junk food), make sacrifices, and reflect on their faith. Their efforts culminate in the fast of the Holy Week.
For all teenagers, the purpose is to be closer to God.
In conveying the message of the Dr. Ghoulem Berrah Foundation, Mrs. Berrah pointed out what they have in common. She emphasized the message of peace of Ambassador Berrah and the importance of respecting the way each faith tries to accomplish the same goal.
They all agree to be soldiers of peace.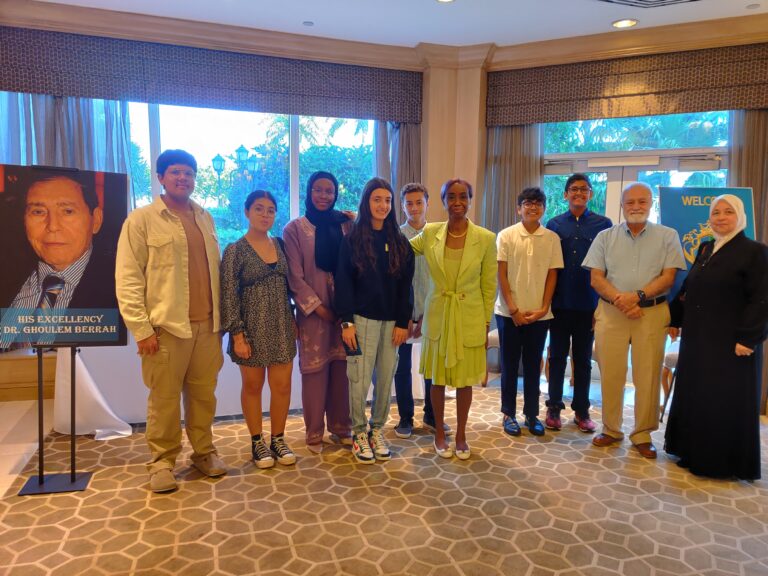 At the end of the meeting two board members paid a surprise visit to the Foundation:
Dr. Abdul Hamid Samra – Imam & Religious Director, Islamic Center of Greater Miami, and Mrs. Sahar Samra – Women Religious Educator.
WE ARE FINALLY BACK IN PERSON.
After a long absence due to Covid-19, the Dr. Ghoulem Berrah Foundation held a meeting on December 3rd with the youth group at St. Joseph Miami Beach Catholic Church presided by Mrs. Marguerite Berrah.
All teenagers were receptive to the message conveyed by the Dr. Ghoulem Berrah Foundation, a call for respect and understanding among teenagers of different faiths.
They all look forward to meeting with their Jewish and Muslim counterparts at the foundation's upcoming event planned for 2022.
The reunion ended with two beautiful prayers performed by Miguel and Ronald. They expressed their gratitude for learning about the foundation's peace purposes.
 A NEW MEETING WAS PLANNED FOR SPRING BREAK.
IT WAS CANCELED BECAUSE OF COVID-19 CIRCUMSTANCES.
WE WILL RESUME OUR MEETINGS IN OPTIMUM CONDITIONS.
A MEETING AT THE DR. GHOULEM BERRAH FOUNDATION

In line with the spirit of Ambassador Ghoulem Berrah, on November 11th, 2019, a group of teenagers of the Jewish, Islamic, and Christian faiths enjoyed an informal meeting held at The Dr. Ghoulem Berrah Foundation.
It was   followed by a luncheon hosted by Mrs. Marguerite Berrah President of The Foundation.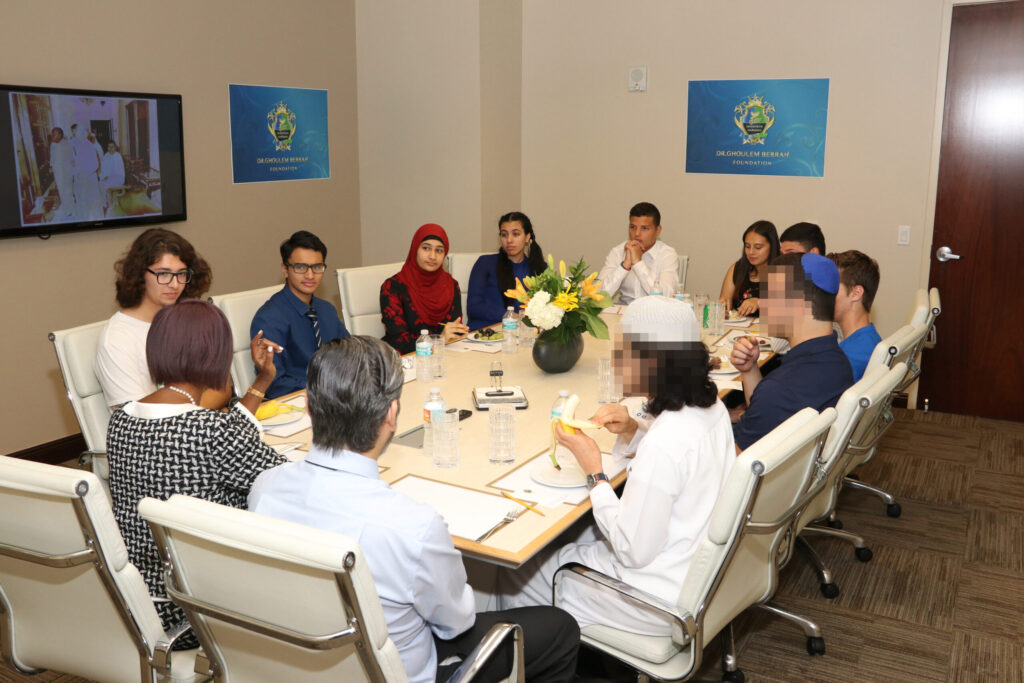 All teenagers grasped the idea that building peace  was an important matter and  agreed to be part of the process. 
The  way they embraced their faith was impressive. Amira, a Muslim teenager professed that she wanted to wear a scarf to affirm her Islamic faith, while Shahid another Muslim girl, was without  scarf.
Ellis, a Jewish teenager, exhibited his kippah and declared that it was his way to show his connection with God. Alan another young Jewish  had no cover on his head.
Jebreel was proudly wearing a  Muslim attire with a kufi on his head and asserted that  he wanted to be recognized as a Muslim, while Muhammed was wearing a regular pant and shirt.
Young Christians were also very proud of their faith.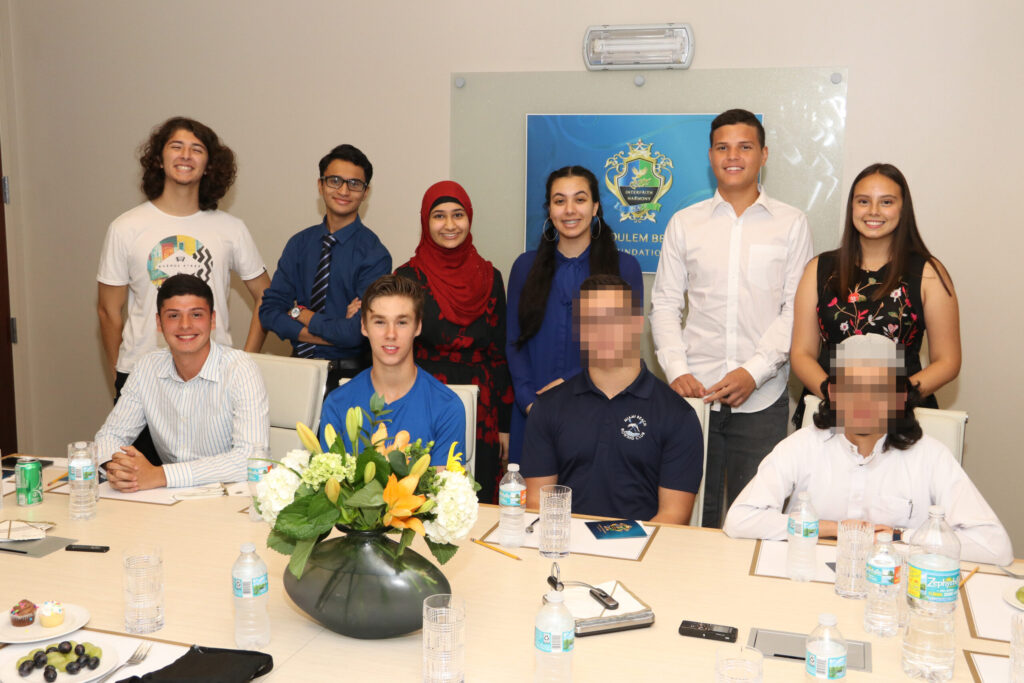 They all enjoyed talking to each other realizing how much they have in common.
At the end of the meeting they were all displaying a genuine smile. They understood the importance of respecting each other faith as the way to building peace.